I start feeling like spamming, but yet another German "goth" magazine caught on.
Sadly, unlike Sonic Seducer, Zillo only published old news.
But we always like to read what we already know, don't we.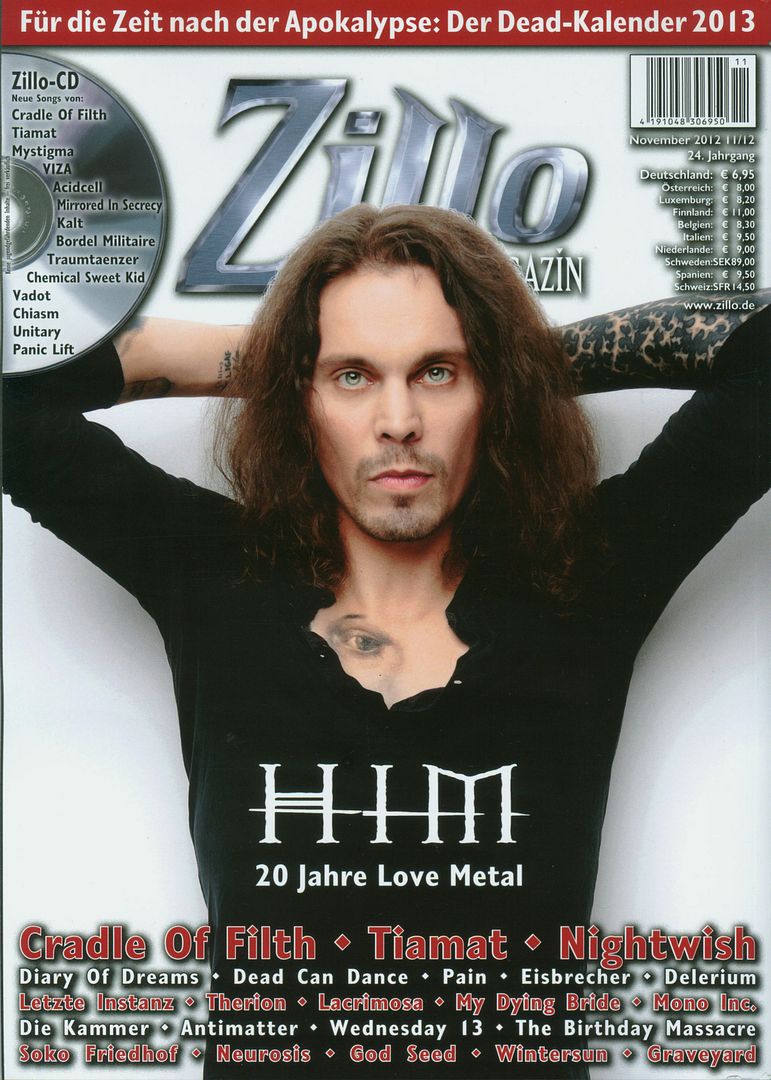 A bit of a shame to spend almost 7€ for a band history text (stupid shrink-wrap), especially when you're expecting another great interview, but hey, a cover is a cover, right?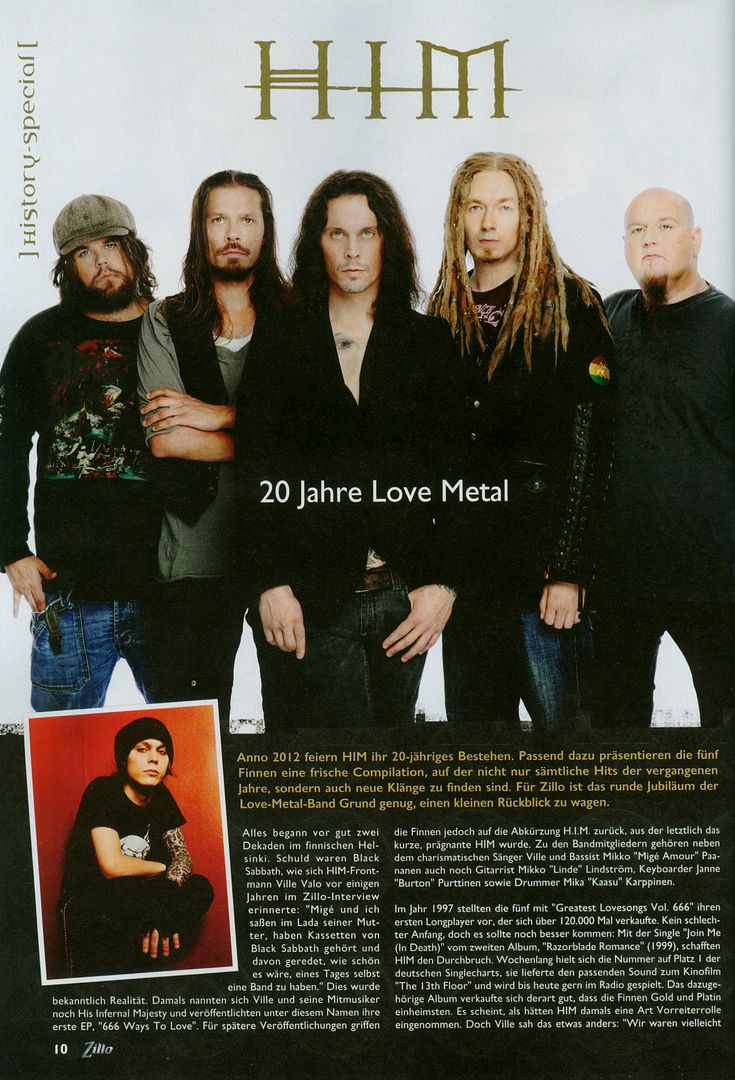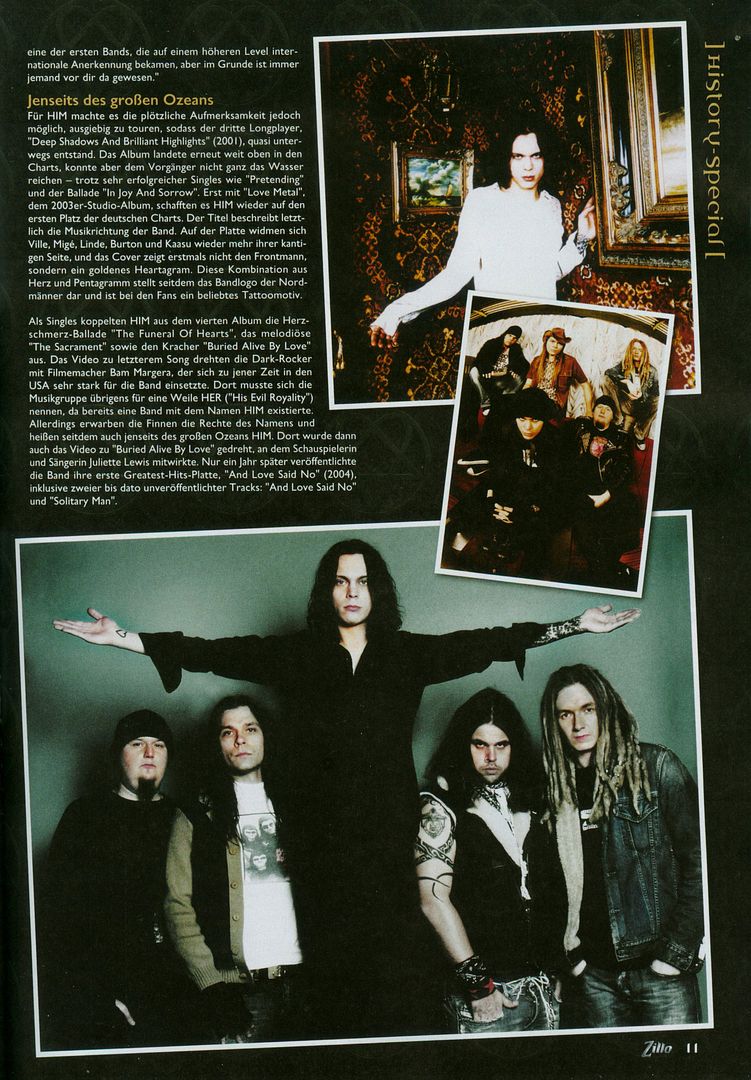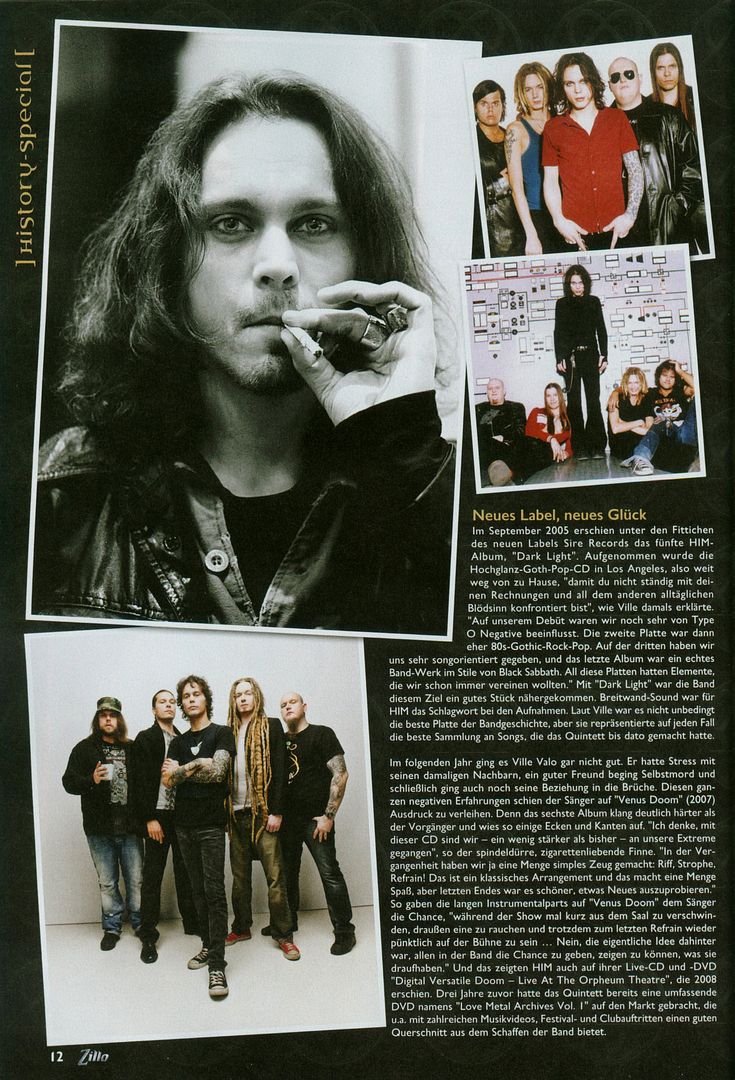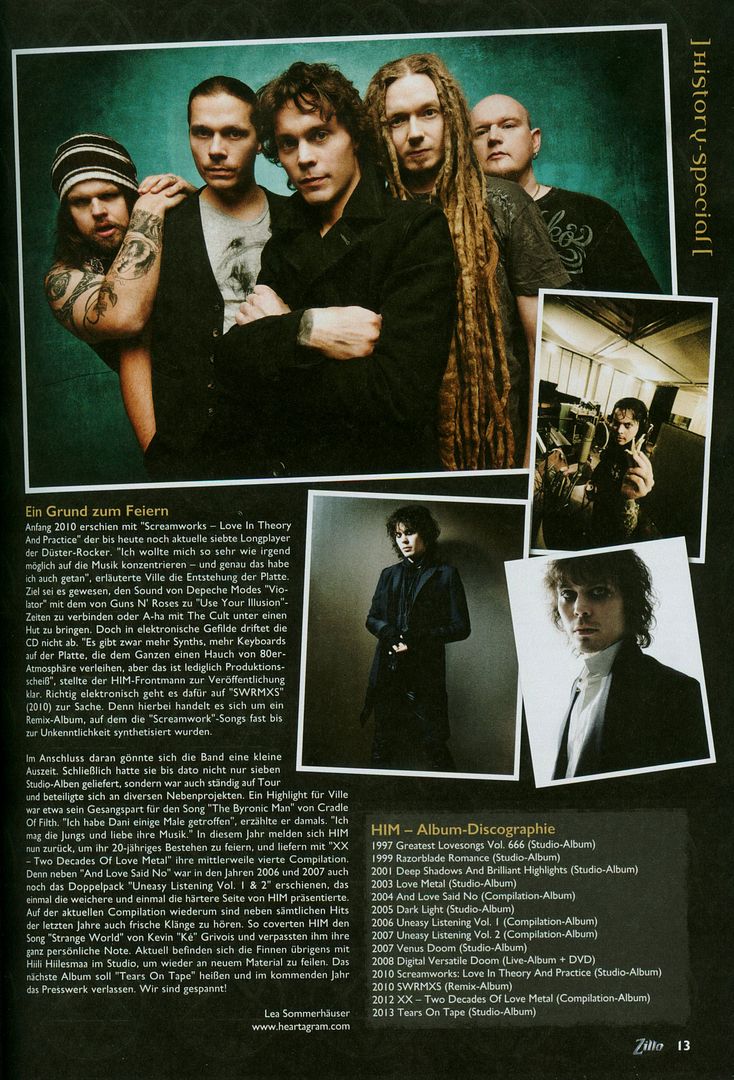 and an ad that was in the mag: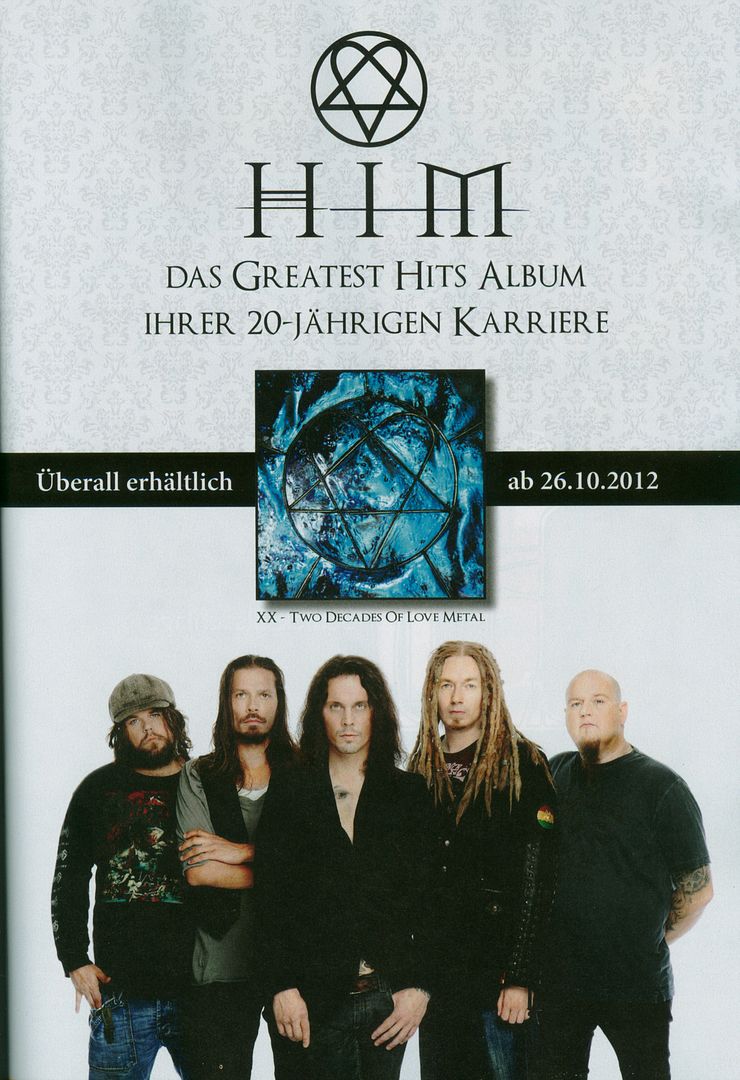 Now, on with stuff we already know and dearly love:

HIM 20 Years of Love Metal

Anno domini 2012, HIM celebrate their 20th birthday. In honour of this occasion, the five Finns present a new compilation not only containing all hits of the past years, but also new sounds. For Zillo, the Love Metal band's decadal anniversary gives reason enough to dare a short look back.

It all began about two decades ago in the Finnish town of Helsinki. Black Sabbath are the ones to blame, Ville Valo remembers a few years ago in a Zillo interview: "Migé and me sat in his mother's Lada, listening to Black Sabbath cassettes and talked about how awesome it would be to have our own band one day." As is known, that wish became reality. Back then, Ville and his band fellows still called themselves His Infernal Majesty and published their first EP "666 Ways To Love" under that name. For later publications, however, the Finns drew on the abbreviation H.I.M. which ultimately evolved to the short and catchy HIM. Beside charismatic vocalist Ville and bass player Mikko "Migé Amour" Paananen, the band consists of guitarist Mikko "Linde" Lindström, Keyboarder Janne "Burton" Purttinen and drummer Mika "Kaasu" Karppinen.

In 1997, the five launched their first long player "Greatest Lovesongs Vol. 666" which sold over 120000 times. Not a bad start, but it should even become better: With the single "Join Me (In Death)" from their second album "Razorblade Romance" (1999), HIM made their breakthrough. For weeks on end, the song remained the Number One of the Germany single charts, it made its way on the soundtrack of the motion picture "The 13th Floor" and it still is a sound for sore ears on radio. The proper album sold so successfully that the Finns reaped gold and platinum. It seems that HIM had some sort of vanguard role. But Ville feels a bit differently: "Maybe we were one of the first bands to got internationally acknowledged on a higher level, but basically there always is someone who had been there before you."

On the other side of the pond

Anyway, the sudden attention enabled HIM to tour excessively, and the third album "Deep Shadows And Brilliant Highlights" (2001) was virtually written while on tour. This album, too, made it into the top of the charts, but it couldn't quite be a patch on its predecessor – despite successful singles like "Pretending" and the ballade "In Joy And Sorrow". It was only with "Love Metal", the 2003 album, that HIM again reached number one of the German charts. The title describes the band's music style. On the record, Ville, Migé, Linde, Burton and Kaasu [no idea why they don't just call him Gas…] dedicate themselves to their more edgy side and for the first time, the cover doesn't depict the frontman, but is adorned with a golden Heartagram. Being a combination of a heart and a pentagram, the Nordic men's band logo has been a popular tattoo motive with the fans ever since.

From the fourth album, HIM released the heartache ballade "The Funeral Of Hearts", the melodic "The Sacrament" as well as the stunner "Buried Alive By Love". The video[s] for the last [two] song[s] was shot by film maker Bam Margera, who in those times was a big supporter of the band in the US. There, incidentally, the band had to call themselves HER ("His Evil Royality") for a while, since there already existed another band named HIM. However, the Finns acquired the rights to the name and are also over the pond called HIM from that hour henceforth. There, they also shot the video for "Buried Alive By Love" featuring the actress and singer Juliette Lewis. Only one year later, the band released their fist Greatest Hits CD, "And Love Said No" (2004), including two previously undisclosed tracks: "And Love Said No" and "Solitary Man".

New Label, new luck

In September 2005, HIM released their fifth album "Dark Light" under their new label Sire Records. The Glossy-Goth-Pop-CD was recorded in Los Angeles, which is far away from home, "so you're not constantly confronted with your bills and other nonsense," as Ville explained back then. "On our debut, we were still heavily influenced by Type O Negative. The second record was more like 80s-Gothic-Rock-Pop. On the third one, we were very song- orientated, and the last one was a real band-piece, Black Sabbath fashion. All those records unite elements we always wanted to combine." With "Dark Light", the band got quite a bit closer to their goal. Widescreen-sound was HIM's slogan for the recordings. According to Ville, it wasn't necessarily the best record in the history of the band, but it surely did represent the best collection of song the quintet created until then.

The following year, things looked black for Ville Valo. He had problems with his then neighbours, a good friend of his committed suicide and finally, his relationship broke apart. All those negative experiences, the vocalist seemed to catalyse on "Venus Doom" (2007), because the sixth album sounded notable harder than its predecessor and had quite some rough edges. "I think that with this record, we went – closer than previously – to our extremes," says the skinny, cigarette-loving Finn. "In the past, we did make a lot of simple stuff: riff, verse, chorus! That's a classic arrangement and it's a lot of fun, but ultimately, it was better to try something new." That way, the long instrumental part on "Venus Doom" offered the singer the possibility "to quickly get out of the venue, have a smoke outside and be back right in time for the last chorus nevertheless… nah, the basic idea behind it was to give everyone in the band a chance to show what they've got." And this, HIM also showed on their live CD and –DVD "Digital Versatile Doom – Live At The Orpheum Theatre" which was published in 2008. Three years before, the quintet already put an all-embracing DVD named "Love Metal Archives Vol. 1" on the market which contains amongst others numerous music videos, festival- and club shows, giving a good cross section of the band's work.

An occasion for celebration

In early 2012, the still latest, seventh album "Screamworks – Love In Theory And Practice" of the melancholic rockers was released. "I wanted to concentrate on the music as much as any way possible – so that's what I did," Ville explained the record's development. The aim was to merge the sound of Depeche Mode's "Violator" and Guns N' Roses "Use Your Illusion", or reconcile A-ha and The Cult. But the CD never drifts off to electronic sounds. "Admittedly, there are more synths, more keyboards on the record, but that's just production shit," the frontman clarifies on the release. But it does get very electronic indeed on "SWRMXS" (2012), the remix album on which the "Screamworks"-songs are synthesised almost beyond recognition.

Then, the band allowed themselves a little time out. After all, they had not only released seven studio records to date, but had also been constantly touring and joined in various side projects. A highlight for Ville was for instance vocal part for the song "The Byronic Man" from Cradle of Filth. "I've met Dani a few times," Ville told back then. "I like the guys and love their music."
This year, HIM are back to celebrate their 20th anniversary and deliver their by now fourth compilation, "XX – Two Decades Of Love Metal". Apart from "Ad Love Said No", the twin pack "Uneasy listening Vol. 1 & 2" was released in 2006 and 2007, one showing the softer, the other the harder side of HIM.
Their current compilation however not only unites all the hits of the last years, but also new sounds: Him covered the song "Strange World" by Kevin "Ké" Grivois and gave it their personal touch. Currently, the Finns are in studio with Hiili Hiilesmaa to polish their new material. The next album will be named "Teas On Tape" and should roll out the pressing plat next year. We're curious!
(by Lea Sommerhäuser)


Love, Liz